ANMA Integrated Development Association- AIDA Don Bosco implementing SBI Gram Seva program in Dimapur, Nagaland, distributed Farm Mechanization equipments to farmers club of 4 adopted villages. The machines were flagged off by Shri Rajesh Soundarajan, IAS DC, Dimapur District on 14th of March 2022, to the adopted villages-Urra, Khriezephe, Bade and Diezephe Village.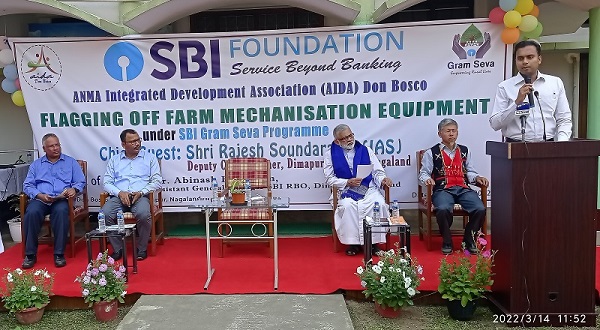 Farmers club were formed from each of the village under Farm Mechanization and in a part share funding structure the farmers bear a share of the cost for the farm machine purchased. Under the responsibility and ownership of the farmer's club the machines will be rented out to farmer's in need to generate revenue and aid in better Agricultural Production, reduction in time spent by villagers for agricultural activities and reduce farm drudgery. On the occasion Shri. Rajesh Soundarajan, IAS DC Dimapur as chief guest spoke on the importance of various programmes and schemes available in different departments for the best use of resources for sustainable growth. He also stressed on the importance of farm mechanization which helps improve agricultural yield and economic growth among the farmers and reduce the need for manpower. He lauded and appreciated the AIDA intervention in the field of socio-economic and livelihood intervention in the region. Mr. Abinash Hembrom SBI AGM RBO Dimapur as the guest of honour spoke on the importance of SBI foundation and further explained that SBI also initiate programs and activities to reach ou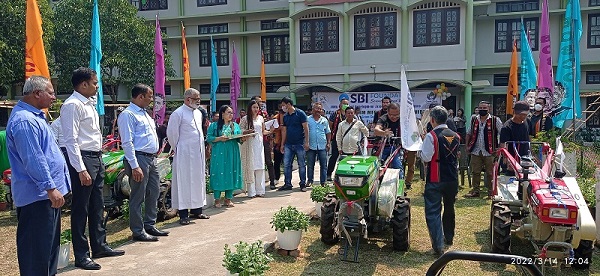 t to people in general and not just giving out loans from the peoples deposits. He also added that Nagaland is lucky to have this SBI Foundation flagship CSR Gram Seva where AIDA Don Bosco as the implementing agency. Rev. Fr. Nebu Mathew SDB, Rector of Don Bosco Dimapur invoked God's blessing for the day and Rev. Fr. Roy George SDB, Executive Director, AIDA Don Bosco Dimapur gave the keynote address and welcomed the gathering to the program. Reports also stated that SBIF through AIDA aims to assist the rural communities to be self-reliant through and a number of other incomes generating activities such as Mushroom cultivation, Poultry development, Kitchen garden, and piggery. These mainly contribute to the local economy and generate more employment opportunities.